Part One ------------------HIS ANCESTRY AND LOST LANDS IN LANCASHIRE.
PILGRIM FATHER CAPTAIN MYLES STANDISH OF DUXBURY LANCASHIRE AND MASSACHUSETTS
(Part One)
by Helen Moorwood
HIS ANCESTRY AND LOST LANDS IN LANCASHIRE
Most Myles Mysteries Solved
Captain Myles Standish, Lancashire's most famous American son, entered documented history when he stepped aboard the Mayflower in 1620 to serve as Military Governor of Plymouth, Massachusetts, the fledgling settlement that provided many of the religious and political tenets of the future U. S. A. He held many official positions including Assistant Governor of Plymouth and commander-in-chief of all New England companies until his death in 1656. His heroic exploits were related in several contemporary writings, and many family details were documented in Plymouth colony records. Largely as a result of Longfellow's 1858 poem,
"The Courtship of Myles Standish"

he joined the panoply of early American heroes, and is commemorated by the second highest monument in the U.S. to an individual (surpassed only by George Washington's), a 14 foot statue atop a 110 foot (116'? - a discrepancy in various accounts) column on Captain's Hill in Duxbury, Massachusetts.
His name is a household word in New England, but he is barely known in Lancashire outside the Chorley (Duxbury) and Wigan (Standish) area, and even less in the rest of Old England.
He is commemorated locally only by two unobtrusive memorials in St Wilfrid's, Standish (a modern stained-glass figure in a crowd and some framed quotations in the vestry), and by an American flag over the Standish pew in St Laurence's, Chorley, donated by U.S. soldiers stationed nearby during the Second World War.
He is commemorated nationally only by the inclusion of his name on a plaque in Plymouth Harbour, which records the departure of the Mayflower on 6 September, 1620.
According to old and persistent New England tradition, Duxbury was named after Duxbury Hall, Myles' ancestral home near Chorley, Lancashire, in honour of him. This tradition, together with details in Clause 9 of his Will (given below), have prompted many attempts to discover the identity of his great-grandfather Standish of Standish and the nature of his close connection to Standish of Duxbury. Three attempts in particular produced remarkable results. The first was in 1846, when Myles' American descendants engaged I.W.R. Bromley, Esq. to search Chorley and Isle of Man Parish Registers for his baptism and his marriage to his first wife Rose (History of Duxbury, Justin Winsor, 1849), with a view to claiming Duxbury Hall after the male line had died out in 1812 and again in 1840.
This attempt was unsuccessful in finding any relevant details, but spectacularly successful in becoming a cause-célèbre, souring British-American relations, spawning a cloak-and- dagger short story by Charles Dickens and planting the seeds of a connection with the Manx Isle, which fifty years later were to blossom into "old Manx traditions". Despite this failure, his descendants continued to believe fervently in their cherished traditions until the next notable search.
This was by the Rev. T. C. Porteus, who in 1912 discovered the abstract of a deed naming the same six townships of Myles' Will, owned by widow Margaret Standish of Ormskirk.
He discovered c.30 more abstracts concerning this family in various manuscript collections, and concluded that Myles must have been descended from this Standish family of Ormskirk and the Isle of Man, with Huan of the IOM as the great-grandfather of the Will, the descendant of an undetermined younger son of Standish of Standish many generations earlier. (See Some Recent Investigations Concerning the Ancestry of Capt. Myles Standish, NEHGR, Vol. 68, Boston, 1914; Captain Myles Standish: His Lost Lands and Lancashire Connections, A New Investigation, Manchester Univ. P, 1920.)
This new version of his ancestry, totally divorced from Duxbury, was surprisingly accepted by many descendants, who jettisoned the old family traditions. The theory is wrong. Many original documents in the Hesketh of Rufford Muniments (particularly DDHe 59/52, 58, 61, 69; 26/124, 60/48) prove that the lands owned by this family could not possibly be those claimed by Myles in his Will. Some were inherited by Robert Hesketh, a High Sheriff, when he married and outlived the widow of the man who had bought the Standish lands, and by 1609 he had bought all the rest.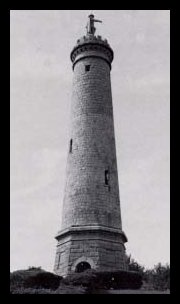 The Standish Monument, Duxbury, Massachusetts
The deeds were witnessed by various local worthies, most of them closely related to Standish's, and Myles must have known all about the sales. The "remarkable coincidence" of the appearance of lands of two l6th.c Standish families in the same places turns out to have been the almost inevitable consequence sooner or later of the re-amalgamation of remnants of the l2th.c inheritances of the children of Warine de Busli, Baron of Penwortham, one of whose grand-daughters received the manor of Standish (and other lands) on her marriage to Radulphus, who founded the line.
G. V. C Young (Myles Standish, First Manx American, Manx-Svenska, 1984) accepted Porteus' ancestry and previous theories of Myles being from Ellanbane, and argued that he must have been born there in c.1584, the older brother of William Jr., b. 1586. The theory is flawed. A 1604 Manx document (Liber. Vast., Kissack notes. 8, 22) naming William as the owner of intack lands, overlooked or ignored by Young, ultimately proves that the elusive older brother was John (d. mid-1607), leaving no space in this family for Myles. Incidentally Myles' first son was Charles, not John, as Young claims. (Details of the proof will be presented in Part 5).
Anyone who wishes to read a summary of the above theories and an almost immediate and highly critical response to Young's theory and a Manx connection in general should visit the Isle of Man web site, "Was Myles Standish a Manxman?" Rev. R. Kissack, 1986/7" -"Huan" of Ormskirk should be "Hugh". His conclusion was "not proven, hardly probable, but conceivably possible", elsewhere "there never was a Manx Myles".)
The "Isle of Man" at the end of Myles' list was almost certainly the one in Croston, Lancashire, owned jointly by Standish in the l3th.c and l4th.c (see. DP397/13/1).
The only facts known about his immediate ancestry and youth have come entirely from 17th.c New England sources:
Monument Inscription

THE CORNER STONEOF THESTANDISH MEMORIAL, IN COMMEMORATION OF THE CHARACTER AND SERVICES--of--
CAPTAIN MYLES STANDISH THE FIRST COMMISIONED MILITARY OFFICER OF NEW ENGLAND.
Laid on the summit of Captain's Hi1I, in Duxbury, underthe Superintendence of THE ANCIENT AND HONORABLE ARTILLERY COMPANY OF MASSACHUSETTS.
In presence of THE STANDISH MONUMENT ASSOCIATION BY THE M.W. GRAND LODGE OF FREE MASONS OF MASSACHUSETTS

M.W. SERENO D. NICKERSON, GRAND MASTER,
ON THE SEVENTH DAY OF OCTOBER, A. D. 1872.
Being the Two Hundred and Fifty-second Year since the First Settlement of New England
PILGRIM FATHERS.
SITE CONSECRATED AUGUST 17, 1871
ASSOCIATION INCORPORATED May 4, 1872.
ASSOCIATION ORGANIZED. AND GROUND Broken June 17, 1872.
CORNER OF FOUNDATION LAID AUGUST. 9, 1872.
He was "the son of a soldier", "bred as a soldier in the Low Countries." (New English Canaan, Thomas Morton, Amsterdam, 1637) - -He was from the "noble house of Standish". (A General History of New England, William Hubbard, written 1650s, first published Cambridge, Mass., 1815)
"He was a gentleman, born in Lancashire and was heir apparent unto a great estate of lands and livings. . In his younger time he went over into the low countries, and was a soldier there and came acquainted with the church at Leyden and came over into New England."
(New England's Memoriall, *Nathaniel Morton, 1669)
The only record from Myles himself is in his Will: Clause 9,

"& heire aparent I give unto my son I Allexander Standish all my lands as heire apparent by lawfull decent in Ormistick Borsconge Wrightington Maudsley Newburrow Crawston# and in the Ile of man and given to mee as right heire by lawfull decent but [.]ruptuo[u?]sly detained from mee my greatG[..]fat[.]er being a 2cond or younger brot[...] from the house of Standish of Standish by mee Myles Standish March the 7th 1655."
(1656, modern dating) My transcription of a copy of the original Plymouth Court Record. Modern: Ormskirk, Burscough, Wrightington, Mawdesley, Newburgh, Croston. *Nathaniel Morton (1669) gave "surreptitiously". Myles' son Alexander recorded hopes of still possibly being able to reclaim these lands in his Will of 1702.
"Also my will is That whatsoever Estate Either in New England or in old which I have Committed into ye hands of Robert Orchard to Recover in England by letters of Attorney from under my hand and Seal And John Rogers of Boston in New England by a letter of Attorney from under my hand & seal Be Recovered after my decease my will is that my wife have her third part & ye Remainder to be divided Equally betweene Thomas Standish Ichabod Standish * & Desire Standish."
Alexander's Will, 21 February, 1702, proved 10 August, 1702. (Porteus, 1920, p. 19, giving ref: The Mayflower Descendant vol. XII, pp. 101-10 2, transcription of the copy in Plymouth Court Records.)*Ichabod lived 1693-1777, the youngest grandson of Myles, and the last to die.
No authenticated contemporary record of his name has so far been discovered in Europe, nor that of his father or grandfather. This total dearth of documentation is in itself curious and significant, as the Standish were great hoarders of family papers. 1000+ Standish documents were already abstracted in the 17th.c and at least 700 additional early documents are still extant in various Lancashire and National Archives. Add to these the dozens of Standish references in Record Society Volumes, and the c.1000 Standish entries in 16th/ 7th.c Parish Registers in Lancashire, and one might expect to find some trace. Not even a smidgeon. This total lack of appearance already arouses suspicions of a conspiracy of silence connected with the 'surreptitious detention" of his Will. Happily, however, the great-grandfather of his Will escaped total obliteration, and the documents mentioned above, together with various historical facts and other sources, (maps etc) have at last yielded their secrets by providing the following details, thus solving most of the mysteries surrounding Myles:
i) The conclusive identification of his Standish great-grandfather and therefore his ancestry (he was Alexander, b.1491/2, first son of the second marriage in 1490/1 of Sir Christopher Standish of Duxbury (c.1450-1496) to Alice (c.1470-15 18), eldest daughter of Sir Alexander Standish of Standish (c.1450-1507), and the first grandson to bear his name).
ii) The almost certain location of some of the lands claimed in his Will (those in Mawdesely and Croston, particularly the Isle of Man in Croston/Bretherton).
iii) The complete story of the "surreptitious detention" (the lands in Ormskirk, etc. were sequestrated during the Civil War, because the Lords of the Manors in which his lands lay were Royalist, and most of the tenants had been coerced into the Earl of Derby's Royalist army).
iv) The complete story of 'Myles' and son Alexander's various claims to lost lands (these protests were instigated as a result of initial sequestration, and subsequently following the Restoration in 1660 and the Glorious Revolution in 1688).
The Arms of Standish of Duxbury
Arms: Azure, threestanding dishes, argent Crest A Cock, sable, beaked, wattled, combed, legged and spurred, Or
v) The complete story behind the family tradition that Myles was the rightful heir to Duxbury Hall (the main Standish of Duxbury line died out in 1583) and their successors died out in 1647, which indeed left Myles as the rightful heir, as the only surviving 2x great- grandson of Sir Christopher. He was thwarted in his claim, however, by a formidable rival, Parliamentary Col. Richard Standish of Manchester, later M.P. for the County and Preston, and one of the richest and most powerful men in Lancashire after the Civil War).
vi) The confirmation that he most probably attended Rivington Grammar School.
vii) The strongest possible candidates for the family of his first wife Rose and the one that bequeathed him his name (Sumner of Croston), and that of his second wife Barbara (Leigh).
viii) The certainty that he and his father had fairly direct lines of contact to Shakespeare & Co., the commanders of the war in the Low Countries, Elizabeth I, James I and their chief ministers.
ix) The location of Duxbury (Old) Hall and The Pele, and their history.
x) The complete history of early Standish of Duxbury, rather different from previous versions.
xi) The complete history of Duxbury of Duxbury, also rather different from previous versions.
xii) And much more.
These discoveries began to emerge in late in 1996, when I started to research the history of Duxbury and the Duxbury of Duxbury.
This was prompted because I had a Duxbury grandma, who was from an interesting Darwen Duxbury family, whose line back to c. 1600 had been fairly easily established (with the help of Ray Aspden and Tony Foster - thanks). I became curious to know more about the early family, which led incidentally to research on the Standish of Duxbury and elsewhere, as there were at least three Standish - Duxbury marriages.
I was already interested in Myles, as there had long been speculation in my Duxbury family as to whether we were somehow connected to him. Also, my father's family -- Ward of Mellor near Blackburn- had for centuries passed down the name Myles, the last one being my uncle (the black sheep of the family!), which added even more zest to the research.
In October 1997, in the middle of writing the story of the Duxbury of Duxbury, I serendipitously stumbled across Alexander, the strongest possible candidate for Myles' great- grandfather. From then on I concentrated on the Standish of Duxbury, and never-ending revelations poured off virtually every page of original documentation, particularly from the Standish of Duxbury Muniments, which had been examined by at least two previous researchers, who were, however, interested in different places or periods. (See. Jim Heyes, A History of Chorley, Lancashire County Books, 1994 and W. Walker, Duxbury in Decline (1756-1932), Palatine Books, 1995. Finally, while checking references during the writing of one of the last chapters of the Myles book on Easter Monday 1999, I was rewarded by the realisation that before my eyes lay the extremely complex, but definitive proof of Myles' descent from the Alexander stumbled over eighteen months earlier. At this point I abandoned the book and started to write this series of articles!
The proof will be presented in c. 2000 words in Part 4 - it lies mainly in all the changes in (mis)information on various 1664/5 Visitation Pedigrees from previous ones of 1567 and 1613, and the diary, itinerary and Office copy of Sir William Dugdale (CSOS Vols. 81, 82, 84, & 110, p. 104), which, when juxtaposed, show clearly that an intensive but ultimately unsuccessful investigation was undertaken in early 1664, hunting for a "second or younger son of Sir Alexander Standish of Standish", almost certainly named Alexander, who was known to be directly descended from (Sir) Christopher Standish and Alice Standish. This search could only have been instigated by Myles' son Alexander, who was trying to prove his ancestry to be able to reclaim his lands.
Nearly 200 years and five generations on from Sir C. Alexander was no longer aware of the precise relationships.
Behind every discovery claimed above lies a chapter or section in the forthcoming Myles book, presenting the proof contained in one of the following collections of documents or manuscripts:
The Standish of Standish Deeds (West Mss., 1771 in Earwaker, 1877, 1878,

1898; Porteus, 1933 (held by Wigan Archives in Leigh).

The Standish of Duxbury Muniments (held by the Lancashire Record Office (DP397).

The Hesketh of Rufford Muniments (held by the LRO, Preston (DDHe).

All Standish Wills to 1657 held by the LRO.

All Standish references given mainly in the Victoria County History, and Volumes of the Chetham Society and the Lancashire and Cheshire Record Society, Old Series and New Series of both, including Assize Rolls, Plea Rolls, Inquisitions post mortem, Civil War Tracts, etc., etc., and many references to the Dodsworth Mss., Towneley Mss., Kuerden Mss. (l7th.c) and Piccope Mss. (19th.c) (held variously by the British Library, the College of Arms, the Chetham Society and Manchester Central Library Archives).

Chorley, Standish & Ormskirk Parish Registers (Lancs. Parish Record Society).

International Genealogical Index for Lancashire (1992 microfiche version, The Church of Jesus Christ of Latter Day Saints, Salt Lake City, Utah).

There was so much new information, plus that from previous research, that I realised early on that it must sensibly be divided into four books, and The Duxbury Quartet was conceived, with publication announced in this Journal and its web site, with details for purchase.